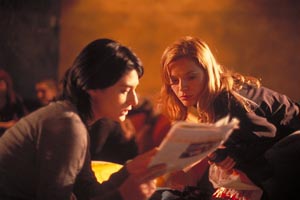 Senada (Labina Mitevska) and her best friend Natasha (Lucija Scerbezia) in a discothek in Sarajevo.
Warchild Reviews
This second feature film by German director Christian Wagner's Balkan Blues Trilogy is one of those rare war films, like "Apocalypse Now" and "Hiroshima Mon Amour," that makes brilliant use of symbolism. The award-winning picture follows the riveting misfortunes of Senada, a 30-year-old mother who lost her 2-year-old daughter during the Bosnian conflict. Ten years after the disappearance, she goes on a hunt to find her daughter and, in effect, a resolution to all she has lost to the war.
T.Straus San Francisco Chronicle 8-2008

Wagner's movie is based on a true story. There are in fact many cases in which a child was separated from its parents during a war and adopted by a family in a different country. The images are perturbing, bleak, and picturesque - all at the same time. WARCHILD tells a deeply moving story and is well worth waiting for you. KINO KINO German TV
Outstanding! Sueddeustche Zeitung 2006

Winner Bavarian Filmaward 2006 (Special Jury Prize) "Christian Wagner demonstrates utmost empathy in his moving parable of a mother who finds her lost daughter after more than 10 years and at the same time has to accept that she might have to say goodbye for the second time. The film makes a valuable contribution to a particular period in contemporary European history that is not too far away in years, but in terms of awareness could not be more remote."
Statement of the jury (excerpt)
For Media information regarding WAGNER Film or any of our other projects, please contact: subscribe newsletter using the details below. If you'd like us to keep you informed, sign-up for our mailing list. We'll send you updated news on all of our projects, including release premieres or parties, dvd releases, international festivals and more.
Media packets are available for download for past and current releases, as are still shots, trailers and other promotional materials. www.wagnerfilm.de
Please click www.wagnerfilm.de/en/presse/index.htm for the download section.
WARCHILD

CHRISTIAN WAGNER FILM
Co-Production Studio MAJ (Slovenia)
in Co-Production SWR - BR - arte -
funded by
M F G FFF BKM FILMSKI SKLAD REPUBLIKE SLOV.
and E U R I M A G E S
supported by GERMAN FILMS