An Extraordinary Film Project
At first glance, this isn't the sort of film one would associate with Munich---a place supposedly without poverty. But ghettokids shows us a whole new side of the city. Young, amateur actors from a problem area known as "Hasenbergl" appear alongside such well-known German performers as Barbara Rudnik and Günther Maria Halmer. And it is precisely this combination that gives the film its gripping authenticity.
ghettokids tells the story of two brothers: Maikis (Toni Osmani) and Christos (Ioannis Tsialas). They live together with their older brother and their mother in a one-room flat in Hasenbergl. The family had emigrated from Greece years ago in the hope that in Germany everything would be better. But their living conditions are crowded, money is scarce and their homeland is far, far away. Both boys deal in drugs and Christos sells his body as well. What's more, they're both Turkish-speaking Greeks and this makes them outsiders even among the Turkish youths in the special school for foreigners they attend. Next to the Hasenbergl, their "homes away from home" are the Main Railway Station, the subway and a youth centre which is run by the social worker Xaver (Günther Maria Halmer). It's at the railway station that they have their first encounter with Hanna Solinger (Barbara Rudnik). She is a teacher and is moving from Hamburg to Munich with her children. While she is unloading her luggage from the train, Christos steals her wallet, little knowing that the next morning she will be standing in front of him as his new teacher. Hanna Solinger's new job won't be an easy one, because the whole class is determined to shock any new teacher so thoroughly and so quickly that she'll never come back again.
The story comes to a head when Maikis becomes involved in the attack of a Turkish gang on some subway passengers and gets arrested for a theft that (for once) he hadn't committed.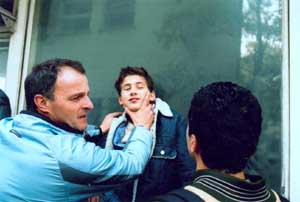 ghettokids was produced by TV60Film (Bernd Burgemeister) for the Bayerischer Rundfunk in co-production with Arte for broadcast on Germany's Channel 1. The script is by Gabriela Sperl.. It is based on extensive research and was inspired by Susanne Korbmacher-Schulz and her experiences with a youth group she founded, "ghettokids - Soziale Projekte e. V".
ghettokids was directed by award winning Christian Wagner and the cameraman was the well known Jürgen Jürges.